Overview
Diploma in Elementary Education (D.EI.Ed) is an ideal diploma course for all those who aspire to be indulged permanent teaching staff of the Government Elementary School. With extensive training and exposure, D.EI.Ed aims to teach every aspirant a better way to manage elementary classroom circumstances, develop the teaching standards as per the elementary students, understanding children psychology of elementary students, and the importance and efficient teaching methodologies. D.EI.Ed lays the foundation course for the education of those students who wish to educate the world and extended the basic ground for a child's future through elementary education and thus change society.
D.EI.Ed from Rajshree Institute of Management and Technology enables the students to gain knowledge and master multiple skills sets essential for the teaching profession that assists in having a promising future at an elementary school level. The teaching methodologies adopted during the curriculum are completely customized and prepares the student for all the possible hardships. The curriculum includes the latest methods and trends of teaching and trains to impart updated knowledge, competencies and skills to the students in the best possible way. D.El.Ed from Rajshree Institute of Management and Technology also prepares the teachers for classroom transactions, evaluation, management and remedial methods to meet the requirements of the fast and slow learners.
Documents Required
To apply for Diploma in Elementary Education, you need to attach the following documents with your admission form –
Class 10th and 12th mark sheet
Birth Certificate
School Leaving Certificate
ID Proof
Domicile Certificate
Caste Certificate (if applicable)
Eligibility
A candidate must be graduate from a recognized University to take admission in Diploma in Elementary Education.
Career Opportunities
Teaching is one of the noblest and respected professions in society. With such high prestige comes high responsibility; therefore, courses like D.EI.Ed have a list of career opportunities in Government and Private schools. These are a few of the career opportunities you could consider after pursuing your D.EI.Ed :
Junior Teacher
Tutor
Instructional Assistant
Admission Representative
Administrator
Head Teacher
Elementary School Teacher
Middle School Teacher
Librarian
Course Fee and Duration
The course duration is of 2 years. The fee mentioned below is subjected to change without any prior notice. The fees displayed at the time of admission are the actual payable charges. In case of any disputes or grievances, they will be addressed under the rules and regulations of the university.
Diploma in Elementary Education: Rs. 41000 per year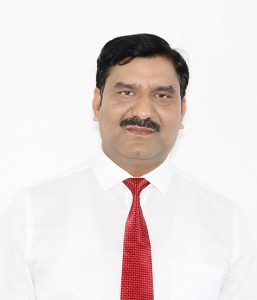 Sanjay Singh
Principal
(Teachers Training Institute)
Abhishek Bhatnagar
Coordinator (D.El.Ed.)