Overview
Physics and its applications are setting new trends by collaborating with technology. From research to academics, government to private, Physics has a huge scope. Therefore, M.Sc Physics is one such course that covers the vast study of all branches of Physics. The course of M.Sc Physics mainly revolves around physics' ten distinct domains, optics, astrophysics, quantum mechanics, nuclear physics, etc., along with the fundamentals of physics.
M.Sc Physics from Rajshree Institute of Management and Technology empowers the student to have a command of the fundamental concepts of advanced principles. Students at (RIMT) get real-time hands-on experience through workshops, seminars, various practical labs, and industry expert lectures. The institute focuses on imparting extra skills like Research & Problem solving, Modelling & Simulation, and many more to Rajshree students and prepare them for the real world.
Documents Required
To apply for M.Sc Physics, you need to attach the following documents with your admission form –
Class 10th and 12th mark sheet
Birth Certificate
Migration Certificate
ID Proof
Domicile Certificate
Caste Certificate (if applicable)
The documents must be attested by gazetted officer or any authorized official, as the case may be. Also, the applicant must carry original documents and photocopies while submitting the application for authentication and three passport size photographs.
Eligibility
A candidate must have passed B.Sc or any other equivalent Degree (with Physics) with at least 45% marks to take admission in M.Sc Physics.
Fees Structure
If you're interested in pursuing M.Sc Physics from Rajshree Group of Institutions, it's important to have an idea of the fee structure. Here's a breakdown of the M.Sc Physics course fee structure at Rajshree Group of Institutions:
Tuition Fee: The tuition fee for M.Sc Physics at Rajshree Group of Institutions is INR 20,000 per Year..

Examination Fee: The examination fee is INR 1,000 per semester.

Hostel Fee: If you choose to stay in the hostel, you'll have to pay an additional fee of INR 40,000 per semester for accommodation and food.

Other Expenses: In addition to the above fees, you'll have to bear the cost of books, stationery, and other academic expenses. The cost of these expenses will vary depending on your individual needs.
It's worth noting that the fee structure may vary from year to year, so it's best to check with the institute for the latest fee structure.
In addition to the fee structure, it's also important to consider the duration of the course. The M.Sc Physics course at Rajshree Group of Institutions is a two-year program that consists of four semesters. During the course, you'll learn about various aspects of Physics such as classical mechanics, quantum mechanics, electromagnetism, and thermodynamics, among others.
Overall, pursuing M.Sc Physics from Rajshree Group of Institutions can be a great option for those who want to pursue a career in Physics. The institute has experienced faculty, state-of-the-art infrastructure, and a comprehensive curriculum that can help you develop the necessary skills and knowledge for a successful career in this field.
Career Opportunities
A Master of Science (M.Sc) in Physics is a degree that can open up many career doors for students interested in a wide range of professions. There is a huge ocean of jobs for candidates in IT, the automobile industry, research labs, various Research and Development Organizations, etc. Some of the popular job roles apart from jobs in government and private sectors are:
Research Scientist
Astrophysicist
Research Associate
Junior Research Fellow
Geophysicist
Radiation Physicist
Field seismologist
Medical Physicist
Metallurgist
Dr. Mukesh Pal Gangwar
Principal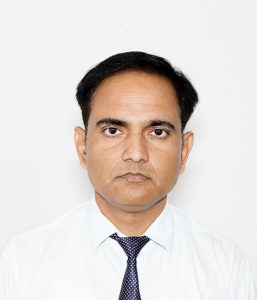 Dr. S.K Gupta
Department Head (Physics)